TornasoleArte, Biographies:
biographical details of Artists in the catalogue, including watercolourist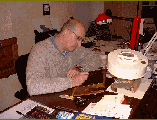 Gianni Raffaelli was born in the very popular district of San Frediano in Florence in 1952.
He followed his family to Venezuela where his father was rather wellknown as painter and spent there part of his youth.
The wild landscape of most of the country impressed him deeply; he started then to imprint on canvas his feelings and the evocative atmosphere.
A qualified Art Schools were missing in Caracas, he had to attend the only Scientific Hight School in the Italian language, taking his diploma in 1972. One year after, with the purpose of continuing his studies, he returned to Florence and attended the Faculty of Architecture at the local University.
He interrupted his studies pretty soon because in his native town he rediscovered the interest and the incentive to continue his search in pictorial and graphic arts. While he was a student at the Academy of Fine Arts, he worked for the Ciompi theatre and there he met the other graphic draftsmen, with whom he founded the "L'Ippogrifo" in 1977.
In thirty years of experience Gianni Raffaelli has deeply developed special and high techniques with professionality and competence and has received high recognitions worldwide.
Starting year 1990, under his personal and private support and enthusiasm, many Art students have adopted these techniques however difficult to study in public school.
As a result of his high professionality and reputation in the artistic field, Gianni Raffaelli and "La Stampa d'Arte" has been uncharged by the Regional Government of Tuscany to rule the "School of engraving Arts" sponsored and supported by European Social Fund.


Mario Agostini was born in the central Italian town of Fermo, in December 1940.
At not quite 20 years of age he goes to live for a long period in Munich, where he has the means to establish his initial contacts with modern Art, being particularly attracted at that time by German Expressionism and New Objectivity. At the beginning of the 1960's he settles in Urbino, where he attends the Scuola Superiore di Giornalismo at the University and where he completes his studies with full marks with a thesis on the sociological aspects of the artistic phenomenon.
In 1964 he is admitted to the Accademia di Belle Arti in Florence, the city in which he goes to live and where he also has the chance to actively collaborate with the Centro Universitario Teatrale.
His first personal exhibition of paintings is in 1967, at Florence's Saletta Conti. At the end of the 1960's, in his Grand studio in Borgo Tegolaio he writes texts and prepares performances in collaboration with Pol Aebi from Switzerland.
In that period, he expresses his social engagement through the realisation of large paintings of surreal grotesque flavour. In 1977 the City of Scandicci dedicates an important personal exhibition to him, which provokes fuss and controversy up to the point that the City of Florence prohibits in advance the affixing of posters for the exhibition.
During this same period, along with Volpi and Raffaelli, he founds the "Ippogrifo" (Hyppogryph), a true research centre for incisory art. Parallel to his painting of social engagement, he develops a research that takes him closer and closer to the world of abstract concept, two of his works bear witness to this research in a small catalogue in the Falsetti gallery in Prato on the occasion of a 1967 collection. At the beginning of the 1970's he is employed as a teacher in Pictorial Discipline at the Primo Liceo Artistico in Florence. He leaves teaching in 1991 to completely dedicate himself to his artistic activities. He presently lives and carries out his work in the Tuscan capital.


Vincenzo Volpi was born near Pontassieve, in the province of Florence in 1954.
Very young he had to follow his family who moved to Florence, where he is still living now.
When he was eleven, he lost his father and was before time forced to face up difficulties of every-day life. Being a very sensitive person, but also supported by a will of iron, he managed to continue studying by selling his first pictures.
He took the certificate at the Art School and pretty soon he tried to get a deeper knowledge of the pictorial arts and satisfy his interest in the subject.
He travelled through Europe, lived long time in Paris and East Germany, where he had the possibility to improve his talent in the graphic and miniature arts.
In the seventies, he was back in Florence where he worked actively at the Ciompi theatre and therefore had the opportunity to meet the other engravers. Together they founded the art print studio-laboratory named "Ippogrifo",
which has become a real centre for the technical research of the old art of engraving.


Pier Francesco Mearini lives and works in Florence, where he was born in 1972.
Having been interested in art since his childhood, he decided to study at the Art High School in Florence, graduating in 1990.
In the following two years he attended the Tuscan Regional Engraving course, where he learnt engraving and printing techniques. In 1993 he his studies at The Academy of Fine Arts of Florence, graduating in Sculpture in 1997.
After which he moved to London, where he continued to work on his personal artistic research through portraits and drawings of the human body.
On his return to Florence in 2000, he met Gianni Raffaelli, who ten years previously had been one of the teachers on his Engraving course that had given his studies great attention and, thanks to this meeting, Pier Francesco's interest in etching resurges. During the following years he frequents Gianni Raffaelli's workshop until February 2005, when with his wife, Sophia Michaeledes, he opens his own art studio.


Rita Buccini was born in Florence in 1973.
She then cultivates the passion for writing as a subsequent form of personal expression, publishing four poetry books and a few essays on anthology.
After graduating from school Rita feels the need to follow a line of study for her other passion of natural history.
Her scientific studies are a constant well of inspiration for her research of artistic expression, allowing her to develop a style of drawing that pays great attention to detail.
Rita has only recently started to etch, soon finding this medium gives her the results that she desires for her personal artistic character.


Francesca Bellesi was born in Florence in 1955.
Stimulated by the family studies for the masterly maturity although having considerable interest for disciplines artistic and confers a diploma on 1975. In 1978 meets Gianni Raffaelli, among the creators of "La Bottega dell'Ippogrifo", a study laboratory and becames the center for research of the ancient engraver's art, with him had three children. For many years dedicated herself to her family until, assisted by her husband, resumed its ancient artistic passion. In 1998 begins to approach the various engraver techniques (Graver, Dry-Point, Aquatint) focussing in particular on the chalcographic technique of indirect engraving (Etching): the artist does not act directly on the metal, as in the graver or dry-point, but above the thin layer fatty paint which it covering, referring the acid (in which is immersed in a bowl the copper plate), the task of engraving itself. The sign thus obtained is visibly clear and clean, suitable for artistic features of the Bellesi, who performs work very accurate, sensitive and flexible.
The Bellesi prefers the technique of Etching as expression means, for the free gestures that the artist has unlike others techiques who need a long internship. By Etching, the Bellesi was able to detach from artisan since she was able to draw the copper plate gaining in quality, freshness and spontaneity. The figure of the artist and engraver blend well in one person.
Francesca Bellesi print and color (technique of painting in watercolor) personally her works of engraving and guarantees its authenticity with his signature, putting a dry stamp (depicting a Ippogrifo) on each sheet of print.

Elisabetta Martelli was born in Florence in 1966.
She spent her childhood in the countryside, near the Tuscan capital.
Around fifteen years old, after leaving school, she procures a living doing the most disparate activities.
Having always shown a keen interest in creative activities and in particular for the sketch soon be back at school and especially in front of the stand.
For four years she will continue to work during the day and frequents Evening courses of the first Liceo Artistico Florentine until attainment in 1988 the long desired maturity.
In that period will have as a professor of painting disciplines Mario Agostini, one of the founders of the company for the graphic arts "The Ippogrifo" already active since 1977.
So, thanks to its outstanding graphics quality that has determinate the interest of his teacher will have the opportunity to get closer just finished her studies to the world of etching and the equally complex manual print with "Chalcographic Press".
Back from a long and adventurous trip to Latin America, she will intensify more and more relationships with the studios of "L'Ippogrifo" today called "La Stampa d'Arte a Firenze associati", until enter in short time to do part of it.
By her temperament decided and receptive, she will rapidly deepen the use techniques of engraving and printing until reaching in a short time a high and specific degree of preparation.
She currently lives between Florence and the Mugello, where she transferred her studio and her Chalcographic Press.


Lucia Cabrucci was born in Florence in 1973.
Since was baby-gir shows interest and passion to the sketch cultivating in a personal way their skills.
Thanks to the help of parents she enrols at the Institute for Professional Designer Fashion and after the Accademia di Belle Arti in Florence, where under the guidance of several professors and well-known engraver Alberto Manfredi, deepens the techniques that shape the art, getting a diploma with honors in 1996. Studies concluded she collaborates with various painters and decorators creating sets for parks, fairs and cultural events.
In 1998 begins collaboration with "La Stampa d'Arte di Firenze" where improves, thanks to Gianni Raffaelli (appreciated engraver in Florence) the ancient technique of etching in all its phases also creating new works. Since 1999 teaches Drawing and Art History at schools and institutes of Art. Still, along with teaching continue to work painting and engraving.
Lucia Cabrucci prints personally engraving her works and she guarantees the authenticity with her signature, affixing a dry stamp (which represents a Ippogrifo) on each sheet of printing.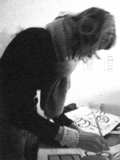 Paola Prato was born in Forlì in 1964,
she completes her studies at the Accademia di Belle Arti di Urbino, in 1987.
She lives and works in Tuscany.

Mostre - Exhibitions:

"La Visitazione"
Comune di Carmignano (Fi), 1983

Palazzo Ducale di Urbino (Ps), 1983
Expoarte Bari, 1984

Comune di Senigallia (An), 1987

"Illustrare Oggi"
Comune di Rovereto (Tn), 1991

"Polittico"
Istituto Francese - Firenze, 1993

"Borderline"
Monteciccardo (Ps), 1993

"Rotte Metropolitane"
Comune di Firenze, 1994

"Autore Donna" Castello Pasquini
Castiglioncello (Li), 1999

Personale
Galleria Tornabuoni - Firenze , 2001